«Քաղաքը և միջավայրը» թեմայով լուսանկարների ցուցահանդես՝ Երևան քաղաքի պատմության թանգարանում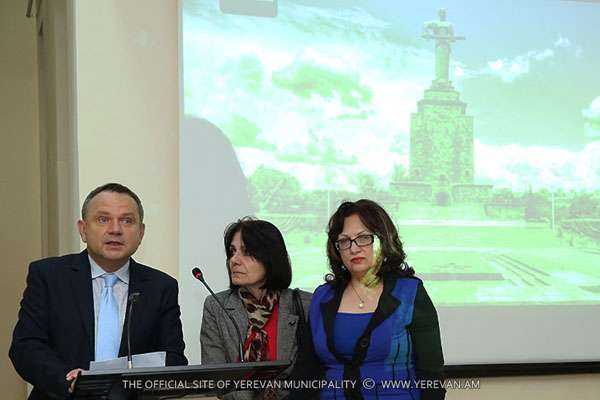 With the support of Yerevan Municipality the exhibition "City and environment" was opened in Yerevan History Museum. The event was organized by the French Embassy in Armenia within the frames of the actions dedicated to the international Francophonie day.
 The exhibition represented the model a comfortable, green, "smart" city full of innovative approaches and 16 photos of Lyon, Marseille, Nice and Paris were displayed. Besides, the video film made by "Locator" company showing Yerevan in 3D format was shown. The miniature of Yerevan called "Crystal city" is displayed separately.
Yerevan Municipality officials, ambassadors and other guests were present at the opening of the exhibition. The head of Municipality Department of Foreign Relations David Gevorgyan outlining the current level of cooperation in various spheres of urban economy with the cities of France, attached particular importance to cooperation expansion with them and stressed the organization of the exhibition as another step in this direction. The Ambassador Extraordinary and Plenipotentiary of France to Armenia Jean-Francois Charpentier in his turn expressed gratitude to the Municipality for willingness to carry out interesting joint projects and noted that within the frames of annual events they try to present the projects which will interest Yerevan and give the opportunity to expand the spheres of cooperation.
Information and Public Relations Department
of the City hall of Yerevan