An individual exhibition of Karel Zeman's works has opened at the Yerevan History Museum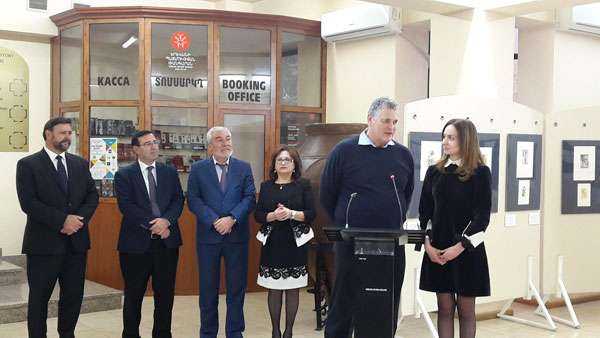 By the joint initiative of Yerevan Municipality, Yerevan History Museum and the Embassy of Czech Republic, on October 18 the individual exhibition of the works by Czech engraver, medal and coin designer Karel Zeman was opened in Yerevan History Museum.
The head of Yerevan Municipality Department of Culture and Tourism Ruben Hovhannisyan, the head of Department of Foreign Rlations David Gevorgyan, the Ambassador Extraordinary and Plenipotentiary of Czech Republic to Armenia Petr Mikiska, the director of Yerevan History Museum Armine Sargsyan, other ambassadors of the mebassies accreditted in Armenia, museum visitors were present at the opening of the exhibition.
Graphics and medals and coins designed by Karel Zeman were on display.
Karel Zeman was born on December 7,1949 in Brno, Czech Republic. In 1965-70 he studied at Art and Craft college of Brno; in 1970-76 he studied in Academy of Arts, Architecture and Design of Prague; in 1984-85 had practice at the museum of Gutenberg, Mainz, Germany.
He was awarded with numerous prizes in various countries. He had individual exhibitions i Germany, France, Italy, Slovakia, Czechia and so on.
The artist is also the author of two books, he illustrated numerous books by other writers.
K. Zeman is interested in history, particularly in the period of Napoleon Bonaparte. He also designed some stamps.
The exhibition is open till October 27.