M. Shahinyan's first solo exhibition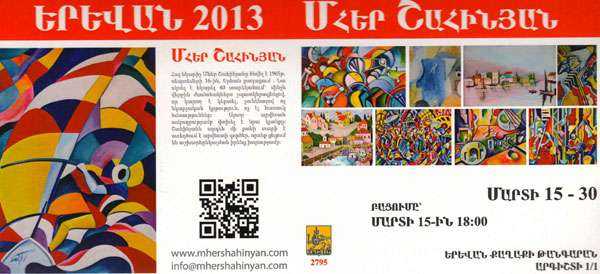 Prior to the 2795th anniversary of Erebuni-Yerevan the first individual exhibition of the works of artist Mher Shahinyan opened at the Yerevan History Museum on March 15 of this year. The exhibition was dedicated to the jubilee of the city and included about 50 works. The exhibition is open till March 30.
[tribulant_slideshow post_id="3113″]
Mher Shahinyan started painting at the age of 40. He hadn't even realized that he might start creating without artistic education and any special skills. Today art has entirely changed his life. In his works Shahinyan strives to unite physical and spiritual aspects.
The broken external structure hides delicate harmony and interplay, any line in the artist's works has its own thought and notion.
The artist also creates futuristic works which reflect his outlook and inner life making up modern characters and movements.
Today Mher Shahinyan's works are well-known among the art-loving public.